This post may contain Amazon affiliate links and as an Amazon Associate I earn from qualifying purchases.
Personal water bottles have recently become a popular staple for most people on the go, and as such, each brand has fans. In this article we're going to compare Swell vs Yeti.
We all love our water bottles because they give you the option and convenience of always having something to drink, no matter where you are.
The market is very broad and the demand is high, therefore, there are many companies creating bottles that will keep your beverage at a certain temperature, for a certain amount of hours. The companies we'll focus on in just a sec are of course are S'well.
Just like with anything else in life, not all of these bottles are created equal. Now, the questions are what exactly is a S'well water bottle and a Yeti water bottle, what can they do, and how do they compare to each other? Here's our 24-hour hot and cold temperature test results showing the Swell vs Yeti bottle performance…
Swell vs YETI Temperature Test Results
We began our testing with comparable conditions for both of the bottles, which were placed in a 72-degree (F) room for the entire 24-hour test period.
Both bottles remained perfectly dry with no moisture accumulating on the outside surface or in the form of a wet ring" beneath the bottle, and there was no sweating whatsoever.
[amazon table="483″]
Also check out our Hydro Flask vs YETI page which includes temperature test results.
Naturally, it seems that most of the cheaper bottles don't have the proper insulation to keep the drink hot or cold like the more expensive ones.
They look like they are up to the standards of the more expensive ones but upon close inspections they aren't made as well and don't have insulation to keep beverages at their temperature.
In these cases, quality is definitely better than price and sometimes you truly have to pay a little more, to get exactly what you are looking for.
When it comes to a high quality water bottle, there are several on the market that come to mind and will give you your money's worth.
Two of them are S'well (AKA Swell) and Yeti. Both of these brands of bottles have fairly positive reviews and both boast to provide the user with everything they look for in a reusable water bottle.
The S'well Water Bottle
The S'well (sometimes spelled Swell) water bottle, like some other water bottles, was created to be a means of helping the environment. Plastic water bottles have been proven to be a health concern for humans and animals, alike.
The BPA found in plastic has been linked to several health problems like diabetes, high blood pressure, obesity, and heart disease.
S'well created a bottle that is not only BPA free but also is reusable, making it a great alternative to a plastic bottle that has to be discarded.
Their water bottles launched in 2010 with the intention of providing a means of having a bottle that will keep a drink cold for 24 hours or hot for 12 hours, depending on what the consumer is drinking.
This means coffee can stay hot at whatever temperature it is when you pour it in, for a whole work shift and more.
The same goes for cold beverages. A cold drink with ice in it, can potential have the ice remaining in it, 24 hours later and even without any ice, the drink will still be cold. The S'well bottles come in 3 different sizes: 9 ounces, 17 ounces, and 25 ounces. This offers a size for everyone.
They also come in a variety of colors and the price ranges. One unique factor about S'well water bottles is that they were created by an all woman company who feel there should be a safe bottle available for everyone, no matter their taste or style.
The Yeti Water Bottle
Yeti has become a very popular brand, mainly due to their coolers. Started in 2006, this company created coolers that were designed to be durable and efficient and after the great success with those, they decided to make water bottles with that same concept in mind. They worked hard and created a water bottle that is lightweight, modern, and durable.
These bottles come in several sizes: 36 ounce, 26 ounce, 18 ounce, 12 ounce, and even a 12 ounce for kids. They come in an array of DuraCoat colors or if you prefer, you can choose the stainless steel look.
The YETI bottle has a 360 degree drinking capability, meaning you can drink from any side of the bottle opening and they are leak-proof. The cap has a handle made right on it that allows three fingers to grip it, making the bottle very portable.
It can be taken anyway, enjoyed by all, and provide a hot/cold beverage whenever you need one. With its price tag of around $30 and up, and the many customizable options, the Yeti is proving it is a "Big Foot" in the water bottle world. With its high quality feel and their reputation, Yeti has shown that it knows exactly what its audience needs and wants.
---
The Swell Water Bottle Vs. The Yeti Water Bottle
Bestselling S'well Water Bottles
1.
S'well WWB-TEAK01 Stainless Steel Water Bottle, 17oz, Teakwood
[amazon box="B01MTQUFUE" ]
2. S'well Vacuum Insulated Stainless Steel Water Bottle, 25 oz
[amazon box="B005OJVU42″ ]
3. S'well 10009-A18-03330 Stainless Water Bottle, 9oz, Abalone
[amazon box="B07BK8BWGD" ]
Bestselling Yeti Water Bottles
1.  YETI Rambler 26oz Vacuum Insulated Stainless Steel Bottle with Cap
[amazon box="B0719HM658″ ]
2. YETI Rambler 20 oz Stainless Steel Vacuum Insulated Tumbler w/MagSlider Lid
[amazon box="B0761YD99J" ]
3. YETI Rambler 36oz Vacuum Insulated Stainless Steel Bottle with Cap
[amazon box="B01CF4EYAA" ]
Bottle Sizes
Both water bottles offer great options when it comes to sizing and they are priced fairly similar. The S'well bottle only comes in 3 sizes where the Yeti has more options to choose from and even a bottle specifically for kids.
The smallest S'well bottle is the 9 ounce and the smallest Yeti is 12 ounces. On the other hand, the largest S'well bottle is 25 ounces and the largest Yeti is 36 ounces.
So, all of the Yeti bottles sizes are rather large in comparison to the S'well bottles. This could be because the S'well bottles are designed by all women owned company and women generally have smaller hands than men.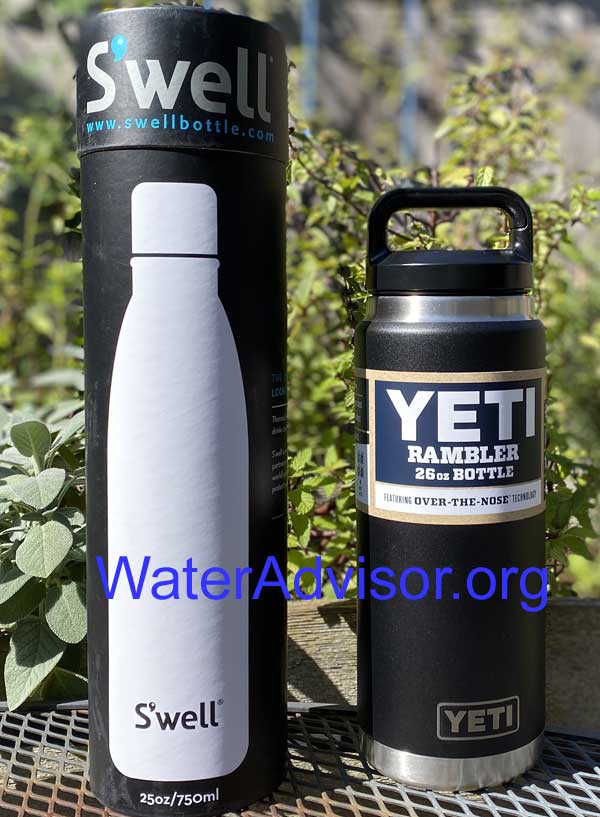 Either way, the different size options of both brands of cups does offer the user the ability to be able to choose which one will fit their own individualized needs.
For someone who just wants to have an occasional sip throughout the day, they may go with a smaller size bottle and the person who has a long shift or will be in weather when they need to stay hydrated, they may choose to go with a larger size.
Customization
When it comes to customization, the S'well has the option of adding either your name or initials to your bottle. This is a way to show ownership and add something extra to make your bottle stand out but there is only one font option available at the moment.
Customization is available on the more basic colored bottles and can be applied to all of the 3 sizes of their bottles. It is also great that you are able to see your name or initials in real time on their website before making a purchase.
The Yeti also lets you customize your bottle and offers not only text and initials but designs, images, and your own logos, as well. This can be done on all of their bottles, no matter the color or size.
Yeti, however, also goes a step further with allowing you to customize the back of the bottle too but this option is only available with their text and monogram categories.
They also allow you the ability to see your customization on their website in real time, so that you are getting exactly what you want. In the placement of the customization, S'well does the names on the bottle by going the height of the bottle, from top to bottom.
This means names are sideways but initials are done horizontal, from left to right. The Yeti does all of their customization horizontal, for the names, initials, and on the front and the back.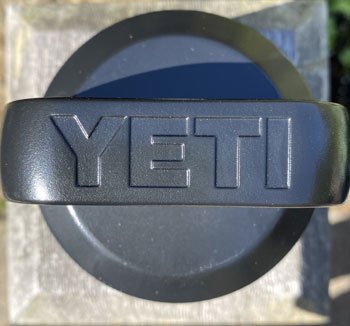 Designs, Colors, And Themes
Designs and colors are great features with both brands of bottles. The S'well bottle is available in several different colors and designs. This ranges from your basic colors to floral designs and they just recently added sports themed bottles and some Disney's Frozen 2.
The ability to choose from a variety of designs allows the user to choose a bottle that speaks for their personality and one that will stand out against the more basic bottles. The Yeti also comes in a nice variety of colors and even lets you go with a standard stainless steel look, if you choose.
They, however, don't have any designs or themes on any of their bottles. Both brands of bottles allow you to see you bottle with your chosen color in real time and along with any customizations you may add.
Insulation
The S'well and Yeti bottles both have claims of being well insulated and will keep cold drinks at their temperature for 24 hours and hot drinks at their temperature for 12 hours. The S'well bottle is said to be designed with triple walled insulation.
They call this technology "Therma S'well Technology" The 3 walls are designed to keep beverages at their current temperature and to help prevent any condensation from forming on the outside of the bottle. This means goodbye to wet rings on tables and no wet hands after handling the bottle. For the competitor, the Yeti bottle is designed with double wall vacuum insulation that is said to keep beverages at their present temperature and also keeps condensation from forming on the outside of the bottle.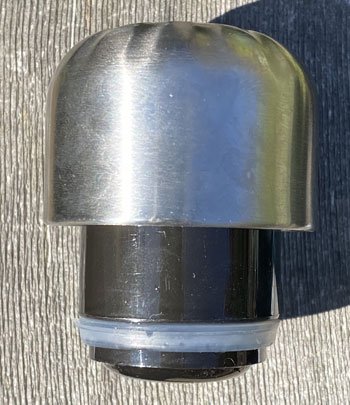 Drinkability And Durability
As far as drinkability and durability, the S'well bottle is made to be durable, drop resistant, and is made of 18/8 stainless steel. It is designed to fit well in the handle and not be a heavy bottle, even when full. The Yeti is also made of 18/8 stainless steel and is puncture proof and rust resistant. Both bottles have claims not tainting the taste of beverages and have an easy grip that ensures you won't drop it.
If you do happen to drop either bottle, they are said to not sustain any substantial damage and won't effect the usabilty of the bottles.
Furthermore, you are able to put ice cubes into both bottles, both are leak-proof, and the smaller sized bottles of both brands can fit into standard sized cup holders. This is another reason why both are great on the go.
Cleaning
After a long day with your bottle, it comes time to go through a cleaning process, depending on what beverage was in it. Both bottles can be easily cleaned with a little soap/dish detergent and hot water. You can also choose to use a bottle brush but it is not necessary. The S'well bottle is, however, labeled as "Hand Wash Only" and is not dishwasher safe. If placed into the dishwasher, the vacuum seal may become defective and the paint on the outside may also chip. The Yeti, on the other hand, can be washed by hand and is dishwasher safe.This gives the Yeti a slight edge on its competition but don't count the S'well out.
The Conclusion
S'well and Yeti bottles are both designed really well with similar missions in mind. S'well was created to help the environment and the health of all living things in it and Yeti was created to bring about a sturdy, durable bottle that is built to last.
They both have similar features and offer you a means of having your choice of beverage, hot or cold for 12-24 hours, making it great for the adventurer and also the office worker, as well.
Both brands offer the ability to pick and choose the color that fits you own personal style and the same goes for the size of the bottle. The S'well bottle offers designs along with their colors whereas the Yeti is comprised of only colors.
The S'well bottles are generally smaller in ounces to the Yeti and the Yeti offers a big 36 ounce bottle that really makes it an all day bottle.
The customization feature is a neat option for both bottles but the S'well doesn't allow all bottles to be customized or the ability to customize the back either. Both bottles can be easily cleaned but the S'well, unlike its competitor, the Yeti, cannot be placed into a dishwasher. Both brands have made it so that there is something for everyone.
Whether it is the color scheme, a name, or if you need a bigger bottle or a smaller one, you can find one that is just right for you and your day to day activities. In the end, it comes down to what exactly you are looking for and what will better suit your needs because both brands offer durable, efficient water bottles that would be great for anyone.
Photo by foilman