This post may contain Amazon affiliate links and as an Amazon Associate I earn from qualifying purchases.
Recently, vacuum insulated water bottles have gained a lot of popularity. Today, almost everyone has one or needs one, although it seems to be challenging to determine the best brand in the market. Many brands have naturally gained a lot of recognition and customer loyalty due to their ability to serve the intended purpose. Today we'll enter into the Hydro Flask vs YETI water bottle debate.
We've also conducted our own hot and cold temperature testing and we'll get to that in just a minute as well, it's at the bottom of the page if you want to skip ahead. Our testing was done over a 24-hour period.
What's a vacuum insulated bottle?
Before reviewing the products, it's essential to understand the difference between a vacuum insulated water bottle and normal single-walled water bottle.
Simply, a vacuum insulated bottle is similar to one bottle nested inside another bottle. There's a sealed vacuum in between the two bottles.
Why use a vacuum insulated water bottle?
Today, most people are looking for ideal reasons why vacuum insulated water bottles are superior to other bottle types.
To correctly explain the above, you're required to understand some heat transfer physics in vacuum insulated water bottles.
When it comes to a single-walled water bottle, the heat transfer in both the inside and outside is relatively quick by means of radiation, conduction, and convention.
Therefore, when you fill such a bottle with hot water, the outer walls of the bottle will become hot through conduction.
On the other hand, the rules change completely when it comes to vacuum insulated water bottles, whereby heat isn't transferred by convection or conduction, but rather by radiation.
This, therefore, means that the vacuum insulated water bottles can maintain a specific temperature over a given time compared to the standard water bottles. They keep hot drinks hot and cold drinks cold for an extended period.
Check out our Swell vs YETI page for more water bottle match-ups and temperature test results.
Hydro Flask Vs. Yeti Overview
Now that you know the difference between vacuum insulated water bottles and standard water bottles, we go further deeper to determine the best vacuum insulated water bottle in the market. In our case, we'll review the Hydro Flask and Yeti water bottles.
Both these water bottles have a lot in common. For instance, they contain 18/8 food grade stainless steel and are also double wall vacuum insulated.
They've got a modern feel and look and are extremely durable, which makes them to be among the leading brands today. It's, therefore, somehow challenging to decide on the best brand when comparing these two insulated bottles.
Regardless of your choice, you'll get a fantastic insulated bottle that can serve you for a long time. Although it's a requirement that every competition must have a winner, below are some top factors to use in the debate over which is the best.
However, before we go to these factors, let's have some company history of the two competing brands.
Hydro Flask
This is the most popular brand.
The company came into existence in 2009 and has managed to take a large market share for the insulated water bottles.
It has managed to come up with a diverse catalog of colorful and functional bottles that are used widely.
Hydro Flask has used insulation technology to come up with ideal food storage containers.
The company is also utilizing technology to come up with improved features, new styles, new accessories, and more customizable water bottles.
Shown here is the Joshua Tree design from the popular National Parks series.
These aren't available everywhere but I got mine right here and the shipping was super fast.
I am getting emails about how these are hard to find but I also saw them available here.
In addition to the Joshua tree design, they also have Grand Canyon, Great Smoky Mountains, and Olympic Hydro Flask bottles.
Yeti
YETI bottles have a devoted following and a lot of people I know who work crazy long hours are devoted to these bottles.
They collect them and they tell me they get excited when someone in the office shows up with a new one. I know it seems odd maybe but this was how I first realized how popular this brand is.
The Yeti insulated water bottles are reputable for making drinks colder. I have the temperature test results showing that's really no exaggeration.
The company started its operations in 2006 and has managed to retain its reputation as a leading brand in vacuum insulated water bottles.
Today, the company is a world-class contender when it comes to stainless steel water bottles.
Hydro Flask Vs. Yeti Comparison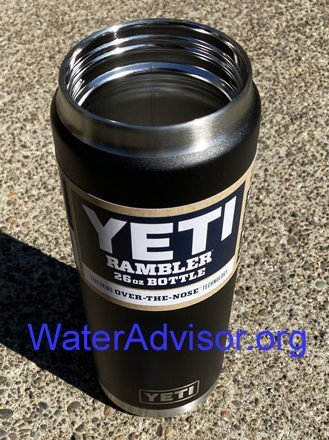 Both insulated water bottles come in a variety of sizes and colors. Below is a comprehensive explanation of settling the score between Hydro Flask and Yeti insulated water bottles:
Insulation
All experiments that have been undertaken for to determine the best insulated bottle between the Hydro Flask and Yeti, practically give identical results.
In one experiment that was done, a 40 Ounce Hydro Flask bottle and a 36 ounce Yeti bottle were both filled with 40-degrees water with some ice chunks floating on it and sealed properly, and left for 24 hours.
Immediately after the 24 hours elapsed, the ice chunks had melted and the water temperature in both bottles had risen by 6 degrees. They both read 46 degrees.
After the experiment was repeated, similar results were obtained. It's only in the third experiment where the Yeti had a variation of 2 degrees concluding that the two water bottles have almost equal insulation.
Price
Both insulated water bottles have relatively high prices that relate to their quality. However, Yepi insulated bottles have slightly high prices than the Hydro Flask bottles.
For instance, a 32 Ounce Yeti bottle goes for around $50, whereas a 40 Ounce Hydro Flask is $8-10$ cheaper.
Although most people see these price tags as unrealistic for a water bottle, they're worth the investment since they can last longer provided that one takes proper care. In terms of price, the award goes directly to Hydro Flask since the Yeti brand charges extra money for such a comparable product.
Durability
In terms of durability, the results are the same since both are made of 18/8 food grade insulated stainless steel which is usually hardcore. The only risk comes when we talk about puncture or dents on their outer walls.
However, over the past few years, customers have showered both bottles with many reviews, although statistics show that the Yeti seems to be slightly durable than its counterpart Hydro Flask.
Accessories
The race again becomes tight in terms of accessories, although, to some extent, the Hydro Flask seems to be much ahead with a very narrow margin. Both bottles have plenty of accessories ranging from caps, sleeves, holders, among others, which change both their look and function. The Hydro Flask has a pool of ever-growing accessories compared to the Yeti.
Design
Both the two insulated water bottles have a modern look, which can make leave you confused, especially if you're unfamiliar with them.
Both are great looking bottles. However, if you go beyond a basic model, the Hydro Flask tends to offer a variety of options in terms of color schemes, color palette, limited edition bottles, among other features.
---
Hydro Flask vs YETI Hot & Cold Temperature Test Results
Hopefully this chart will help you determine a winner in the Hydro Flask vs YETI debate. We started the tests with comparable conditions for each bottle and they were placed in a 72-degree (F) room for the entirety of the test.
Both bottles remained perfectly dry the whole time, no moisture accumulated on the outside surface or as a "ring" below the bottle, no sweating whatsoever. As you can see, they're pretty similar in terms of maintaining cold temps.
Maybe the determining factor will be whether you want better long-term performance for hot beverages? If so, your winner is the YETI.
[amazon table="464″]
Hydro Flask Vs. Yeti Reviews
Here are the top bottles from each brand for you to check out. Our 24-hour temperature test results are below.
Hydro Flask
These bottles come in a variety of different colors and are customizable. Below is a review of the best Hydro Flask bottles on the market today:
1. Hydro Flask Water Bottle – Stainless Steel & Vacuum Insulated – Wide Mouth with Leak Proof Flex Cap – 18 oz
[amazon box="B01ACAX7OS" ]
It's among the smallest bottles we have today. Although it's small in size, it has the same quality and functionality as the other insulated water bottles. Its size makes it easy to handle and carry either using your bag or your jacket pocket.
It has the ability to keep your liquid's temperature stable for quite a while. It can keep a cold drink cold and a hot drink hot for up to 24 hours and 6 hours, respectively. It's ideal for those who make short and regular trips due to its small size and lightweight design. It's BPA-free and has a lifetime warranty.
2.
Hydro Flask W32TS611 Mouth 32 oz. Wide Water Bottle
[amazon box="B00KDW1ZKE" ]
This is a limited edition of Hydro Flask. One of its best features is that it can to keep your drink cold for a period of more than 24hours as it's always advertised. Another plus for this bottle is that it has a wide mouth that makes drinking easier and to accommodate ice cubes. It also has a little handle for easy portability.
3. Hydro Flask 16 oz True Pint Cup for Beer or Cider – Stainless Steel & Vacuum Insulated – Stackable & Shatterproof
[amazon box="B00ZH4GOPE" ]
This Hydro Flask bottle was specifically created for beer, although it can be used to hold other drinks. It's well insulated and can be used as an office cup.
4. Hydro Flask Water Bottle – Stainless Steel & Vacuum Insulated – Wide Mouth with Leak Proof Flex Cap – 40 oz
[amazon box="B07MZC4Z4Y" ]
It's a big Hydro Flask bottle that easily fits in most car and truck cup holders. It's also easy to carry using your hands. It contains a slip-free grip and powder coating, which ensure safety in case you accidentally drop it. It works by stopping condensation from taking place from outside the bottle. This bottle also has a wide mouth for easy access when drinking the liquid inside.
Finally, it has TempShield Insulation that ensures your drink can stay for 24 hours while cold and 6 hours while hot. The bottle is BPA and toxin-free. It's ideal for family trips, adventures, and other outdoor events. The 40-ounce wide mouth bottle comes in 18 different colors, from where you can select one depending on your taste and preference.
YETI
Below is a review of the best Yeti bottles on the market today:
1. YETI Rambler 26oz Vacuum Insulated Stainless Steel Bottle with Cap
[amazon box="B072889KWK" ]
This is among the most popular and tough Yeti bottles you'll find in the market. It's made of 18/8 stainless steel, meaning that it's more durable and can't break easily. It's, therefore, suitable for any rough condition such as sporting activities or hiking. Its color doesn't peel, crack or fade, meaning that it'll maintain its original look for years. It has a leak-proof cap to ensure there are no unwanted accidental spillages. It's ideal for truck drivers, family adventures, and sports fans. It keeps your drink at a constant temperature.
2.
YETI Rambler 36oz Vacuum Insulated Stainless Steel Bottle with Cap
[amazon box="B07CF7N9XW" ]
This is a bigger Yeti bottle that's durable and indestructible having been made using 18/8 stainless steel. Regardless of whether you're driving in hilly or bumpy roads, this bottle won't break. Its design makes it ideal for stopping any condensation from happening outside the wall of the bottle. Additionally, it has a TripleHaul Cap that's 100% leak-proof and has an excellent grip that makes it easy to hold and carry. It's also the leading Yeti bottle when it comes to heat maintenance technology since it has a double wall insulation system to keep your hot drink hot and cold drink cold. It also has a wide mouth opening, which makes drinking or pouring easy.
Lastly, the bottle can be cleaned using a dishwasher, is BPA and toxic-free and comes in a variety of seven different colors, which you can easily personalize the way you want.
3. YETI Rambler 20 oz Stainless Steel Vacuum Insulated Tumbler w/MagSlider Lid
[amazon box="B0761YD99J" ]
This is a standard bottle that has Yeti MagSlider Lid, which is the only known lid that uses magnets to ensure the temperature of you water or beer remains constant. It can easily be cleaned using a dishwasher and its BPA free. It has a durable color that doesn't peel, crack, or fade. It's made of 18/8 stainless steel meaning it's durable and can resist any external impact or force that occurs. Additionally, the plastic used is also high quality and doesn't fade over time. The only downside of this bottle is that its lid can sometimes spill your liquid, and is also heavy.
4. Yeti Rambler 18 oz
[amazon box="B07288WC3K" ]
This bottle is ideal for kayak trips, hikes, and regular movements. It has a double-wall insulated vacuum to ensure your drink remains hot or cold until your last sip. It also has a TripleHaul cap. It's made of durable and thick materials and can be easily cleaned using a dishwasher.
Hydro Flask vs YETI: Which is Better?
After the analysis of each product's properties, design, features, and other variables, you'll realize that both bottles are excellent in this line of products. Each type has its own advantages and disadvantages. The choice lies with the buyer.
However, before you purchase any insulated water bottle, you should research a little bit more on their features and prices and later narrow down the list to a single bottle. It's also essential to go through some online customer reviews to see what past users are saying about their experiences with particular bottles. Always keep in mind that you must have a set budget that you should stick to.
Good luck finding your perfect water bottle.
— the Water Advisor team
Photo by Silver Blu3